Every homeowner would agree that having a beautiful backyard or patio in the house is one thing that they would like to have in their home. This would be a perfect place to unwind and relax every time one feels tired from a day's work. Aside from the fresh air and all the greens that one could see in the area, it would be better that it is well-designed from the walls to the seats and to everything! We have shown you different backyard designs already but this one is different and will no doubt be a total hit for the ladies out there.
A young couple with four children wants to create a place where they could entertain their family and friends. Of course, an outdoor space would be perfect for this and so after they turned a typical Notting Hill stucco property into a sophisticated family home, they asked Germinate Garden Design to come up with a new design for their outdoor space. The pair wanted to have a funky garden design with plenty of space. The area is inspired by their favorite holiday destination, Ibiza. That is why they opted for a brightly colored and creative garden with different areas. The family got an outdoor space with a bespoke outdoor kitchen with top of the range built-in BBQ and storage, two-tier raised beds that double as a seating, and a green wall. Another amazing feature of the garden is the mosaic wall and of course, its touches of pink everywhere! Scroll down and take a look at the space which you will surely love.
Location: Notting Hill
Designer: Germinate Garden Design
Style: Modern
Type of Space: Patio/ Backyard
Unique feature: This beautiful backyard has a modern design with pink colors, a mosaic wall, a green wall and many other impressive features that you would love to see in your own outdoor space.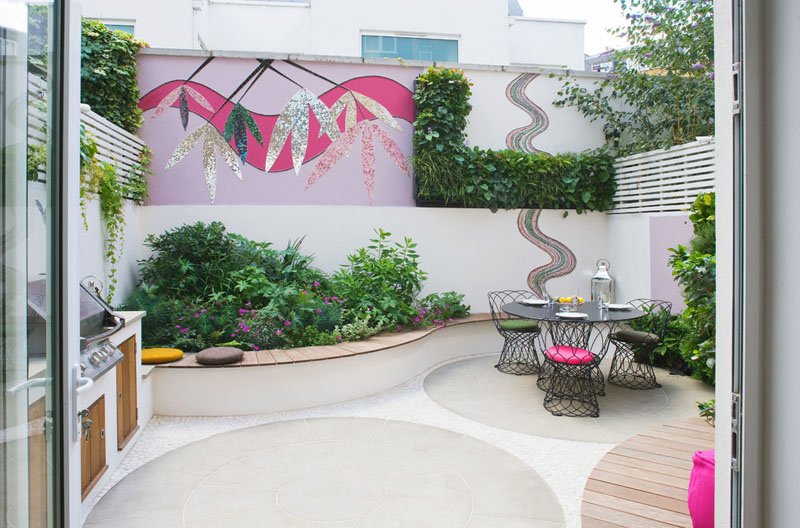 As you can see, the patio isn't that big at all but it has a totally big design because of how cute this looks like. With one look, you can no doubt spot many stunning elements in it.